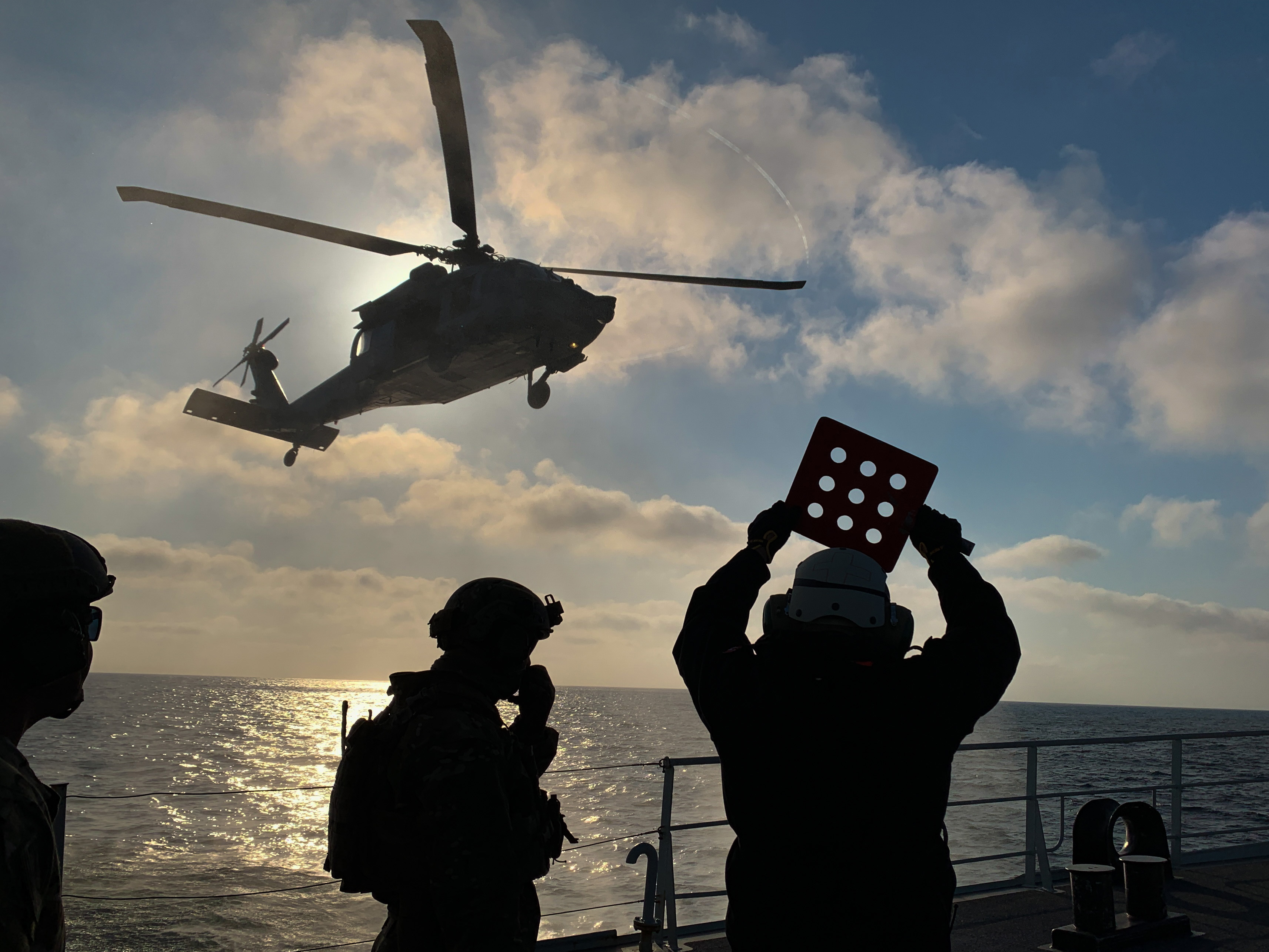 HMCS Yellowknife conducts training with allies on Op CARIBBE
By Capt Annie Morin,
Op CARIBBE PAO
As professionals, it's our responsibility to train and remain proficient and effective in our respective domains. When an opportunity came up for training with our American allies, the ship's company of HMCS Yellowknife was up for the task.
Over the course of March 25, members of US Coast Guard Maritime Security Response Team-West supported by MH-60 helicopters of the United States Navy, trained to re-certify team members on imperative competencies needed to maintain individual, team, and unit operability.
Specifically, the training was meant to simulate the taking over of a vessel using a helicopter as a way to board. This combination of the Kingston-class Canadian ship, the US Coast Guard Maritime Security Response Team-West, and the United States Navy helicopters for the exercise was somewhat unusual but nonetheless beneficial for the members…and to be honest, quite entertaining to see.
Picture a helicopter hovering 10 meters above the deck of the ship, members of the US Coast Guard Maritime Security Response Team-West coming down on ropes, tactically moving onboard ship to critical areas onboard to control a ship, then when the task was completed, being hoisted back up before departing.
Opportunities such as these allow for the Royal Canadian Navy, the US Navy, and the US Coast Guard to exercise their interoperability. In an environment that is ever challenging and demanding, training with Allies enables each party to understand how each other work as well as identify and overcome potential barriers to success for real life operations.
Crewed by 45 members, including members of the US Coast Guard, Yellowknife is deployed on Op CARIBBE along with HMCS Whitehorse, Canada's contribution to Operation MARTILLO, a US Joint Interagency Task Force South (JIATFS) operation responsible for conducting interagency and international detection and monitoring operations and facilitating the interdiction of illicit trafficking.