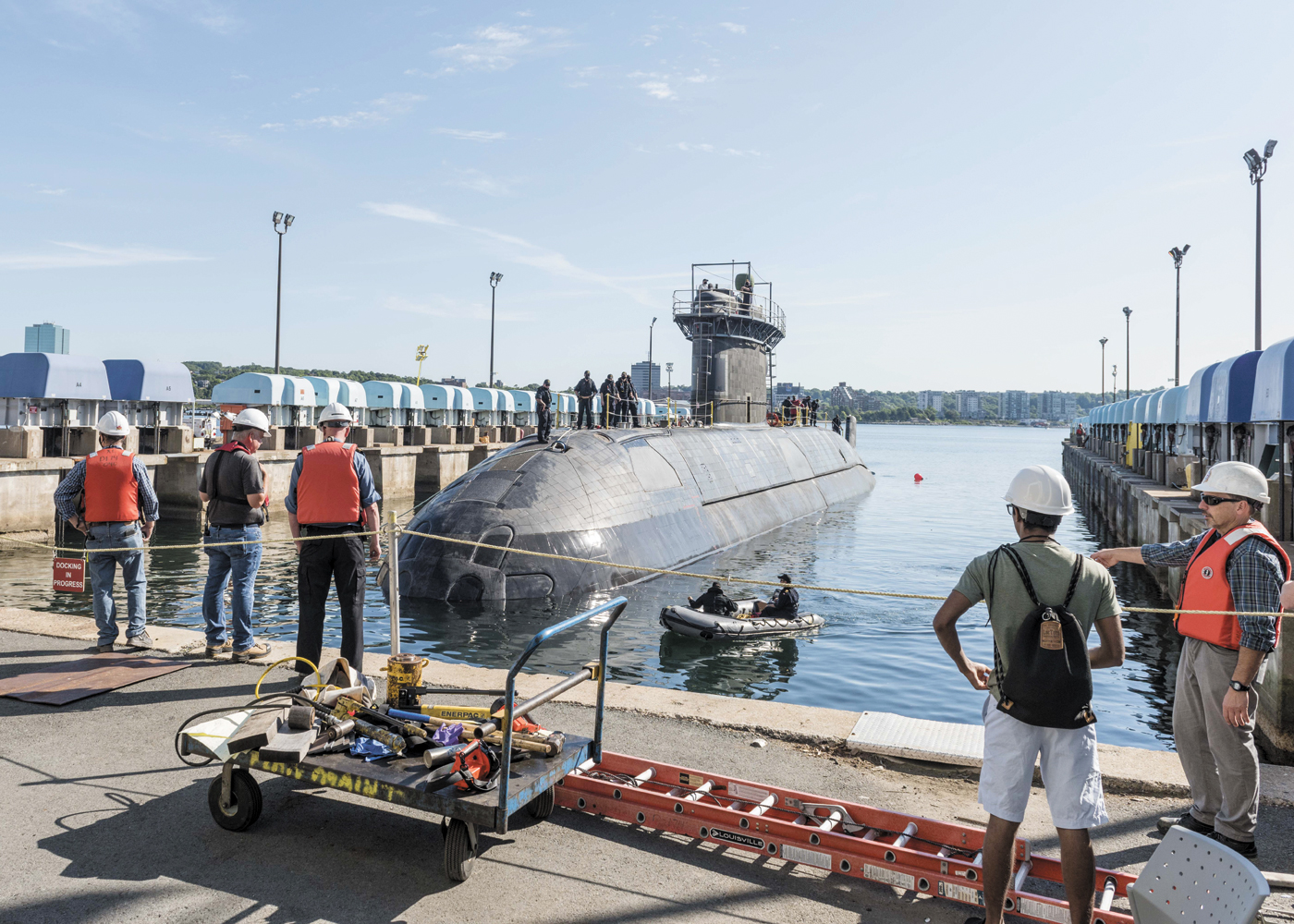 HMCS Windsor prepares for return to sea
By Ryan Melanson,
Trident Staff
Excitement is building among Her Majesty's Canadian Submarine (HMCS) Windsor's crew as the submarine wraps up the last phase of its Transitional Docking Work Period (TDWP) and gets set to sail for the first time in two years.
"The closer we get, the more and more excited my crew and I are becoming," said Lieutenant-Commander (LCdr) Drew Matheson, Windsor's Commanding Officer.
Windsor entered the submarine shed in Halifax in October 2018, undergoing deep maintenance work along with modernization upgrades to set the Victoria-class submarine on its new operational cycle of nine years of operational availability followed by three years of maintenance.
The two-pronged approach involved work on key pieces of maintenance to fix up the wear and tear from a busy four year sailing period that ended in 2018. That period saw Windsor deployed to Europe multiple times, with participation in Exercise JOINT WARRIOR and TRIDENT JUNCTURE and more than three months operating in the Mediterranean.
On top of the maintenance and repairs, the boat also underwent capability upgrades, receiving the state-of-the-art Bow Sonar Suite Upgrade.
"This new state-of-the-art sonar system will radically improve our ability to detect, classify and track quiet warships and submarines. It is a game changer for the class," said Capt(N) Ouellet.
Windsor also received an overhaul to its weapons systems and will now be armed with the Mark 48 MOD 7AT torpedo, an upgrade from the previous Mark 48 MOD 4M.
"In order to support this torpedo, we had to make significant upgrades to our weapon handling, our weapon discharge and our fire control systems," LCdr Matheson added.
Like most other Royal Canadian Navy and Canadian Armed Forces units, Windsor experienced a work interruption during the spring of 2020 as the country locked down to combat the COVID-19 pandemic. But thanks to the dedicated work of Fleet Maintenance Facility Cape Scott personnel and LCdr Matheson's sailors, the TDWP stayed on schedule.
The platform was taken from the submarine shed and lowered back into Halifax Harbour in early August. Workers from Cape Scott are still on board now that Windsor is back in the water, finishing up the final pieces of maintenance while the crew begins powering up their main systems and conducting alongside trials.
"They've put it all back together and now we have to prove that it works. Adding new capabilities on board will always come with heavy trials and testing to make sure we have full functionality of the system," LCdr Matheson added.
"If everything goes smoothly, we will conduct a camber dive to prove its watertight integrity alongside, and then we'll proceed to sea."
LCdr Matheson also thanked Formation Safety for its support since Windsor went back in the water, and said that team has been on board extensively, making sure the most up-to-date COVID-19 policies are being followed in accordance with Commander Canadian Submarine Force's goal to provide a safe working environment for anyone who works in a Victoria-class submarine.
Looking ahead, the submarine will enter its tiered-readiness program at sea after proving its water tight integrity, bringing both Windsor and its crew back into fighting shape.
Beyond that, Canadian submarine movements are classified, but LCdr Matheson said his crew is looking forward to conducting their business at sea with a modernized platform.
"Canada's Defence Policy directs us to modernize Victoria-class submarines and to operate them at home and abroad in support of Canada's national interests and continental defence. That's what we intend to do."