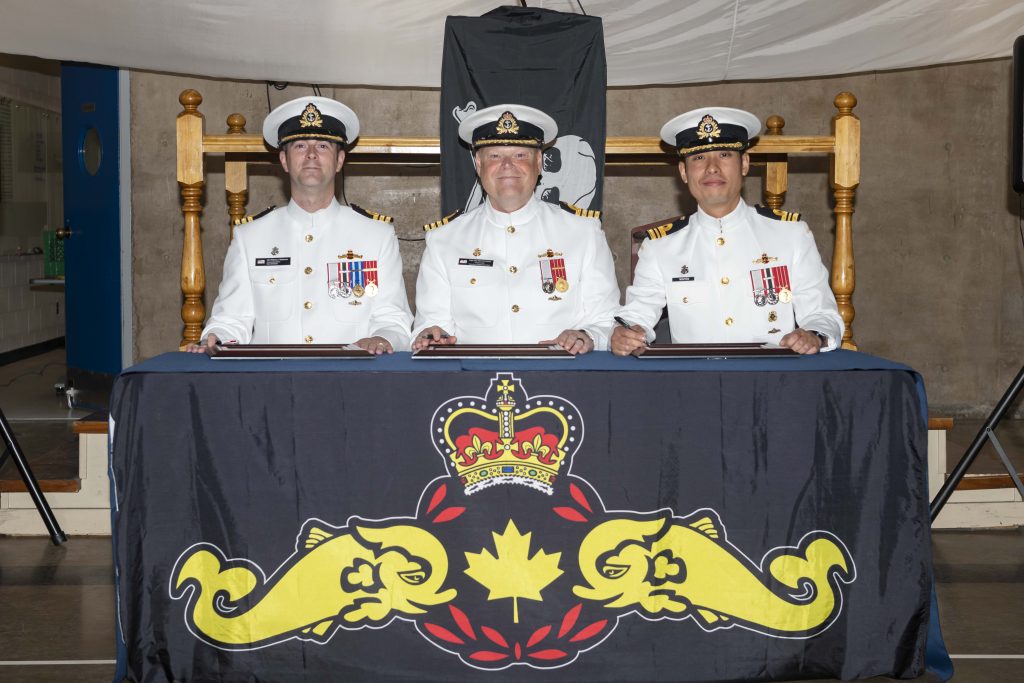 HMCS Windsor marks first change of command since 2018
By Ryan Melanson,
Trident Staff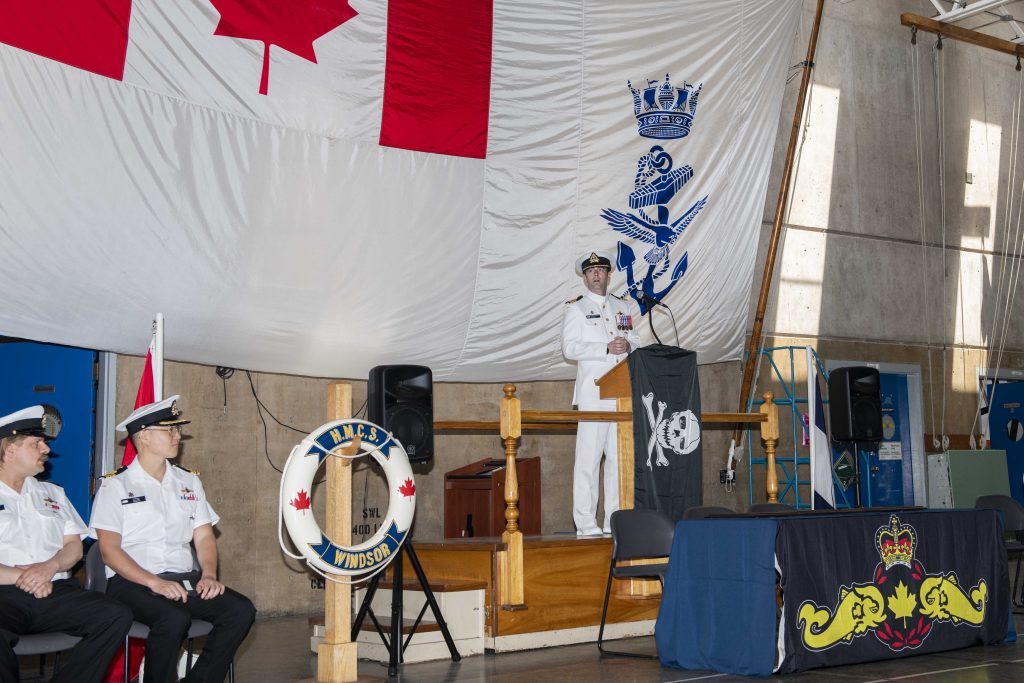 After a marathon 1,837 days leading His Majesty's Canadian Submarine (HMCS) Windsor, Commander William Matheson handed command of the boat off to his friend and colleague Lieutenant-Commander Harrison Nguyen-Huynh during a ceremony on June 15 at HMCS Scotian.
Cdr Matheson's long command appointment included three different executive officers, four coxswains, six navigation officers, and more than 24,000 nautical miles sailed in Windsor.
"He has steered his crew safely through busy exercises, weapons firings, and most importantly force-generating – training and mentoring the next generation of submariners," said Captain (Navy) Alex Kooiman, who flew into Halifax for the occasion. Capt (N) Kooiman welcomed LCdr Nguyen-Huynh to his new role, and encouraged the present crewmembers of Windsor to see the Change of Command as an opportunity to rally behind the incoming CO and approach the coming year with a new energy.
And as he prepared to step away after five years with Windsor, Cdr Matheson said he enjoyed every minute, and announced that his successor would be inheriting "an incredible boat with the best crew he'll ever work with."
"So will I miss it? Being entrusted by the country to sail around the world with hundreds of millions of dollars of equipment, 47 elite sailors aboard, with some of the most destructive weapons in the Canadian forces, a mission, and limited communications? Yeah, I'll miss it, I honestly don't know how the next job could ever compare."
Speaking to the crew of Windsor after officially taking command, LCdr Nguyen-Huynh reiterated how appropriate it felt to be taking over from Cdr Matheson, with the two having spent countless hours together submerged in Victoria-class subs through their careers,
"I stand here today a very humble person, and I attribute the success of this moment to the combined effort of all, and my eternal gratitude goes to people who mentored me and have tried to keep me out of trouble," LCdr Nguyen-Huynh said.