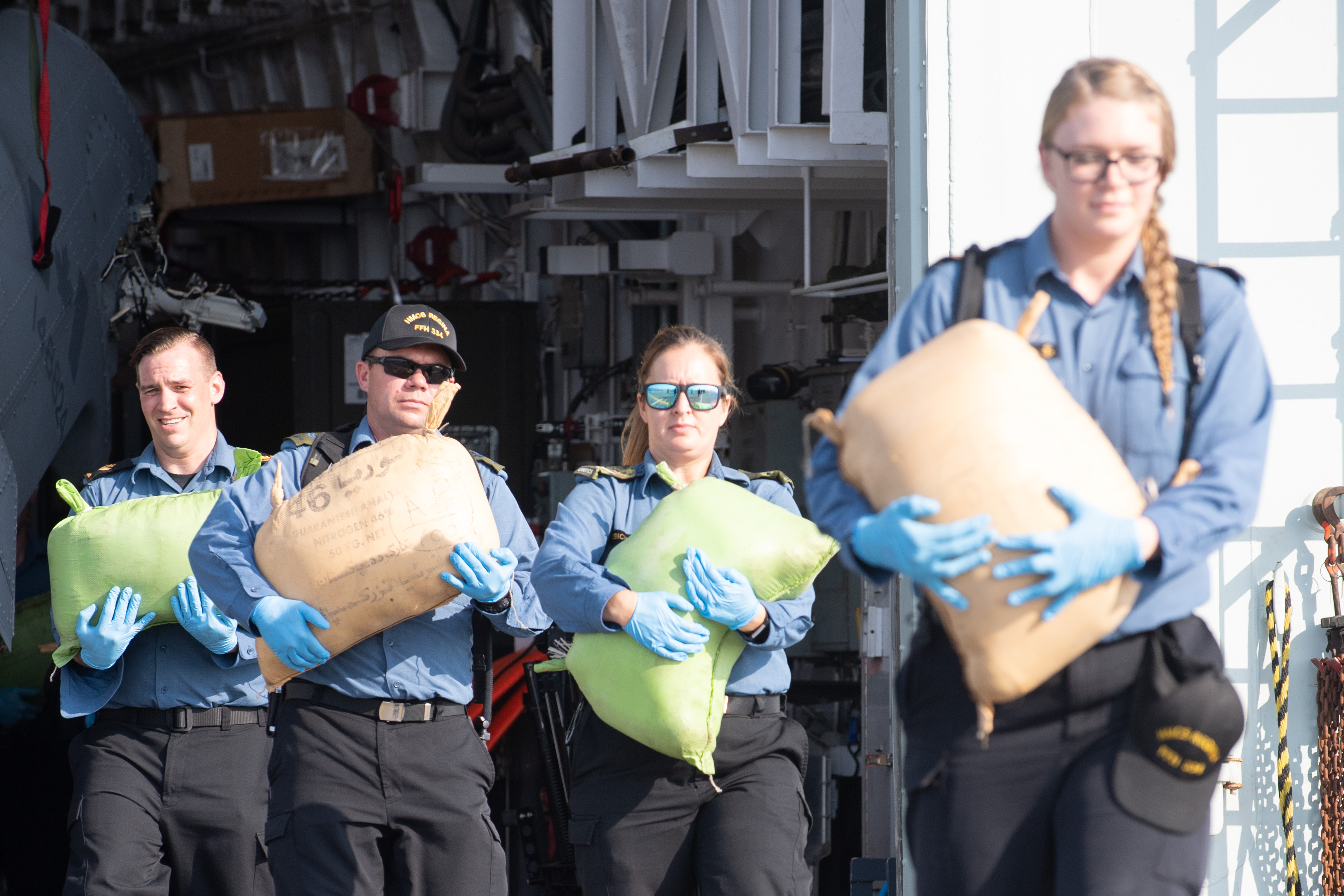 HMCS Regina makes her first drug bust during OP ARTEMIS
By Lt(N) Rob Davenport,
Weapons Officer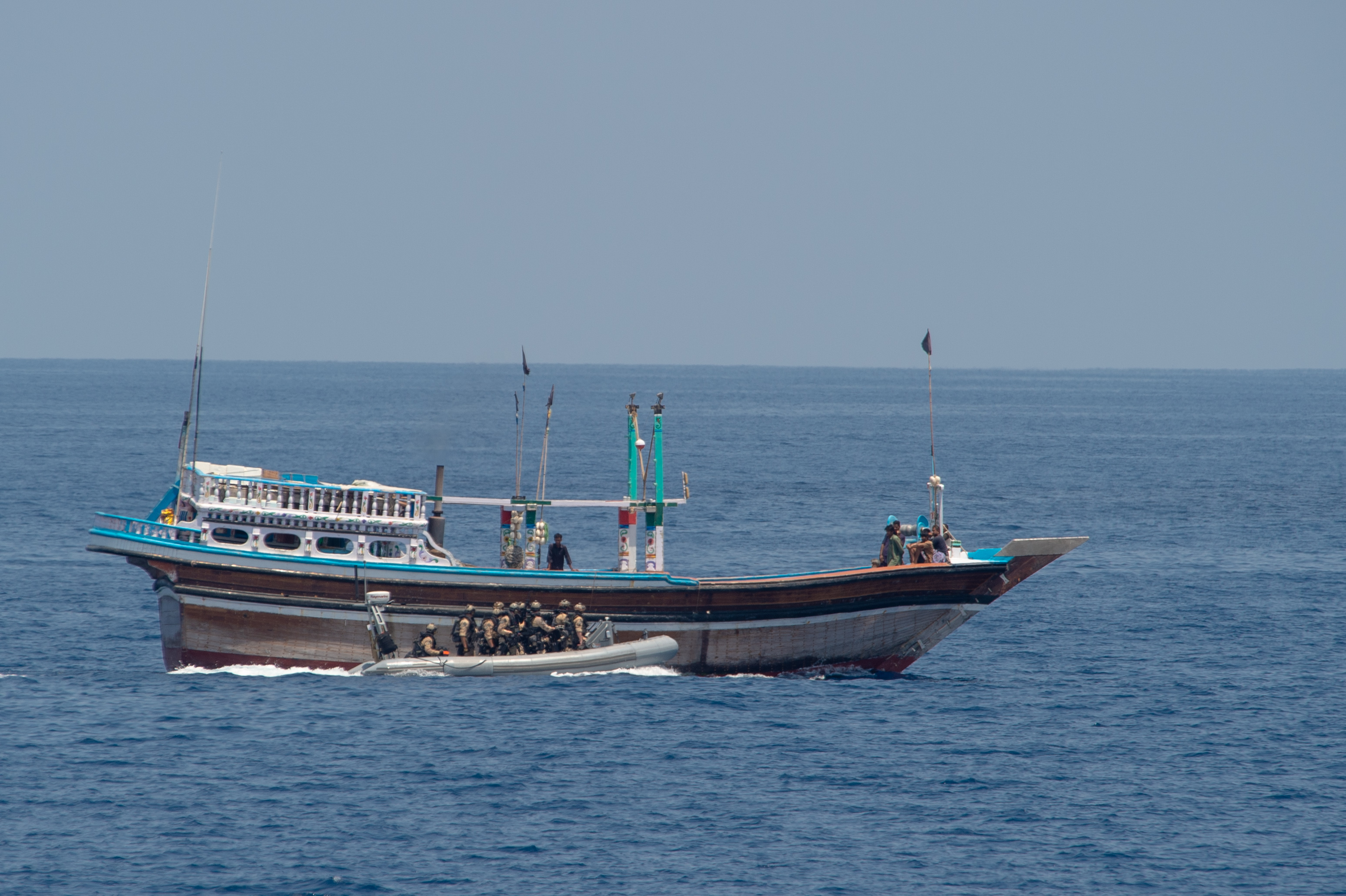 On April 7, 2019, HMCS Regina boarded an unregistered dhow (local fishing vessel) in the Arabian Sea sailing on the Hash Highway – a known smuggling route in the Indian Ocean. The boarding led to Regina's first drug bust of Op ARTEMIS 2019, seizing more than 2,500 kg of hashish. By destroying the drugs at their source, Regina is reducing the flow of illegal narcotics and money into the hands of organized crime and terrorist groups.
Regina, working under Canadian-led Combined Task Force (CTF) 150, is operating in the Arabian Sea as part of a 33-nation coalition known as Combined Maritime Forces. The mission: counter terrorism and maritime security operations aimed at intercepting the smuggling of illicit goods, including narcotics, which fund terrorist networks. The illegal narcotics flow from the Makran Coast to Yemen and Africa, some of which are eventually destined for Europe and North America.
At first glance, seizing and destroying drugs at their source appears to accomplish the objective; however, the situation in the Indian Ocean is far more complicated. The people who transport these illegal narcotics are not evil actors of organized crime or terrorists. They don't resist being boarded, nor do they interfere with the boarding team during a search of the vessel. The crew are typically fishermen, taking a lucrative opportunity to transport cargo to support their families due to poverty and instability in their home regions. Although it's imperative for ships under the command of CTF 150 to stop the flow of illicit narcotics and money through the Arabian Sea and Indian Ocean, it is equally important to ensure that these fishermen are able to return to their legitimate livelihoods. In order to accomplish this, we do not confiscate their vessels, and any damages made during searches are repaired prior to departing. Regina supplied bottled water and fruit to the crew, who have often been at sea for long periods of time. NTOG team leader sums it up best:
"My team and I are all sailors and our team's first priority when visiting these ships is the safety and welfare of the sailors on any ship we encounter, drugs being there or not. In order to effectively deter and disrupt the flow of narcotics that is funding terrorism, it is just as important for us to build trust with the people who are being exploited by those same actors who wish to do us harm. We are all trained and prepared for a worst case scenario, but treating the crew with dignity and respect makes our job easier and safer for everyone involved."
This mission has had a direct impact on the lives of Canadians and our Allies, as these drugs are often bound for use in our own cities, and are closely linked to organized crime networks around the world. Once embarked in Regina, the drugs were inventoried, weighed, and then destroyed by members of the Ship's Company. The entire team is immensely proud of the work they've accomplished, and look forward to future success as they continue on Op ARTEMIS until the end of May 2019.