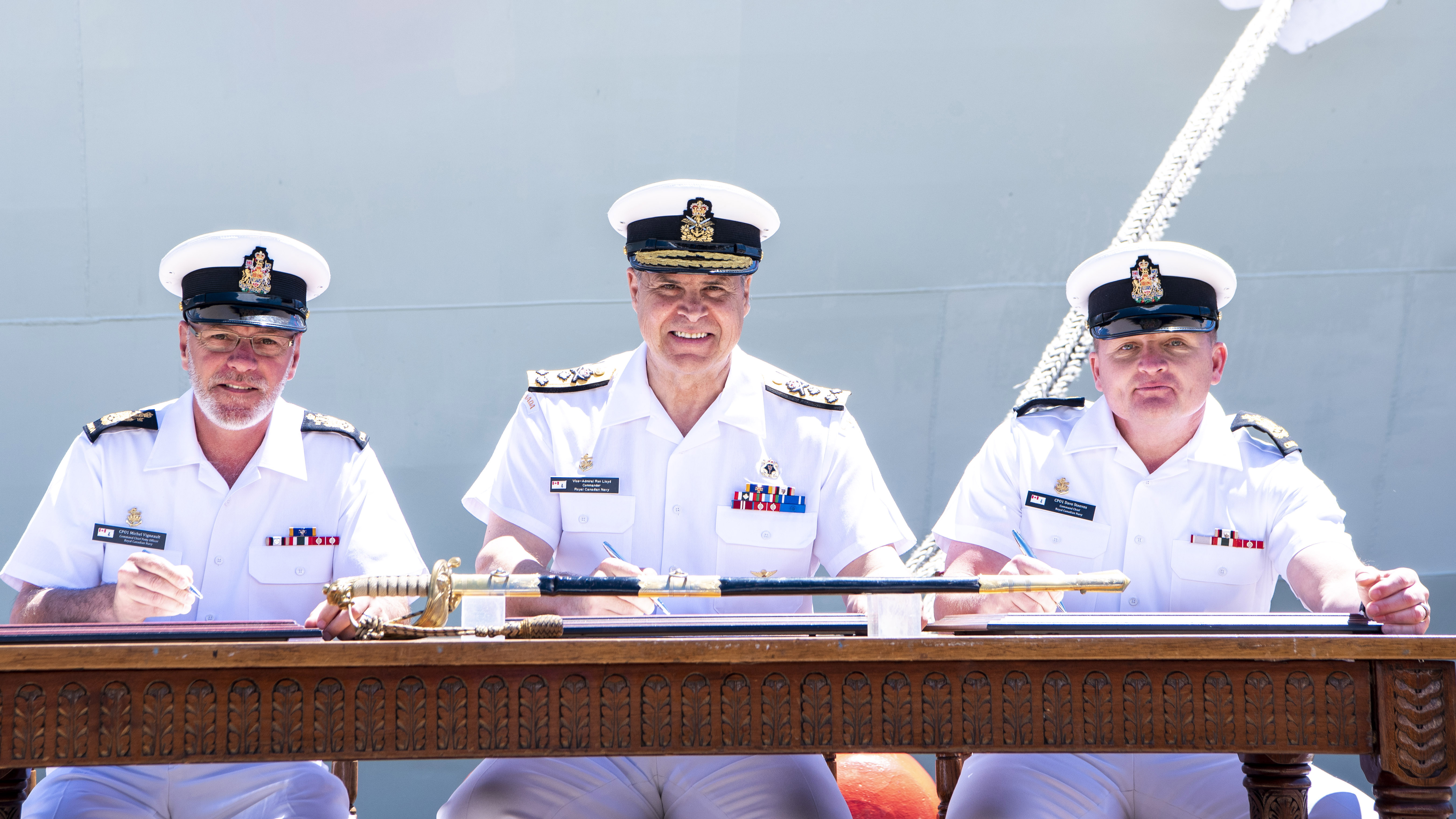 Changes must be embraced, outgoing RCN Command Chief says
By Ryan Melanson,
Trident Staff
As the Royal Canadian Navy prepares to receive HMCS Harry DeWolf later this year and transition to a new fleet of warships over the next decade and a half, CPO1 Michel Vigneault said sailors' attitude towards the new equipment and technologies will be crucial.
He was still in the early years of his career when the first Halifax-class Frigates were being commissioned in the late 80s and early 90s, and saw plenty of hesitancy among the generation of Chiefs and Petty Officers who made their careers in steamers or Tribal-class destroyers.
"There was a crowd of older Chiefs and POs who didn't buy into the new technology. They fought to stay on the old ships. Many of them ended up being left behind because of that attitude," he said.
"Now I'm challenging my Chiefs and POs to not act the way my generation did, to really dive into this. I want them to be excited about new ships and new capabilities. It's not only for us, it's for the young sailors and to keep them motivated and excited."
CPO1 Vigneault, the outgoing RCN Command Chief Petty Officer, is preparing to release from the CAF after 34 years, and officially stepped down from the Command Chief position on June 12 to make way for new CCPO CPO1 David Steeves, who most recently served as Formation Chief for Maritime Forces Pacific.
CPO1 Vigneault grew up on the Magdalene Islands, and said a childhood surrounded by water prepared him well for a naval career. He joined the RCN when he was 17 years old in 1984 with a goal of travelling the world, forming new connections, and making a difference.
"When I joined, I didn't have a big plan beyond the first three years," he said, adding that his first shipmates, many of whom he still calls friends today, and the mentorship of strong leaders, made a big impact.
"It was not always easy, but there are so many memories, highlights, and deployments where our work truly made a difference. Beyond all that, I was fortunate in always having the chance to work with great leaders and mentors; that's what kept me in and brought me to where I am today."
While it's bittersweet to make his exit at such an exciting time, with the RCN set to be revitalized over the next 15 years, he said he's grateful to step away after having been at the very top of the organization, with confidence in the work that he, VAdm Ron Lloyd and other members of the Command Team have done to prepare sailors for the change ahead.
Challenges in the near future will revolve around taking care of people, CPO1 Vigneault said. This includes scheduling and work/life balance, physical and mental health, and keeping the rank and file informed about new changes and initiatives coming down the pipe. The move to a modern Navy and the push to be recognized as a diverse, respectful and supportive employer has already brought positive change, he added.
"We have to look forward, to progress, and to not be afraid of trying new things or even failing sometimes as we set things up for the next generation… We should be celebrating our past, and commemorating our proud history at every occasion, but we can't be living in it."
CPO1 Vigneault also used his time as Command Chief to advocate for the Navy League Cadets and Royal Canadian Sea Cadets programs, encouraging sailors of all ranks to get involved.
"Whether it's volunteering at a local corps, showing up at the annual review or helping out with a summer camp, it's important. In my opinion, these are the best youth programs in Canada," he said.
"I'm so impressed by the future leaders and strong young people I've met. These are not recruiting programs, but it's an incredible way to expose our youth to the Navy as an option they can pursue in the future."