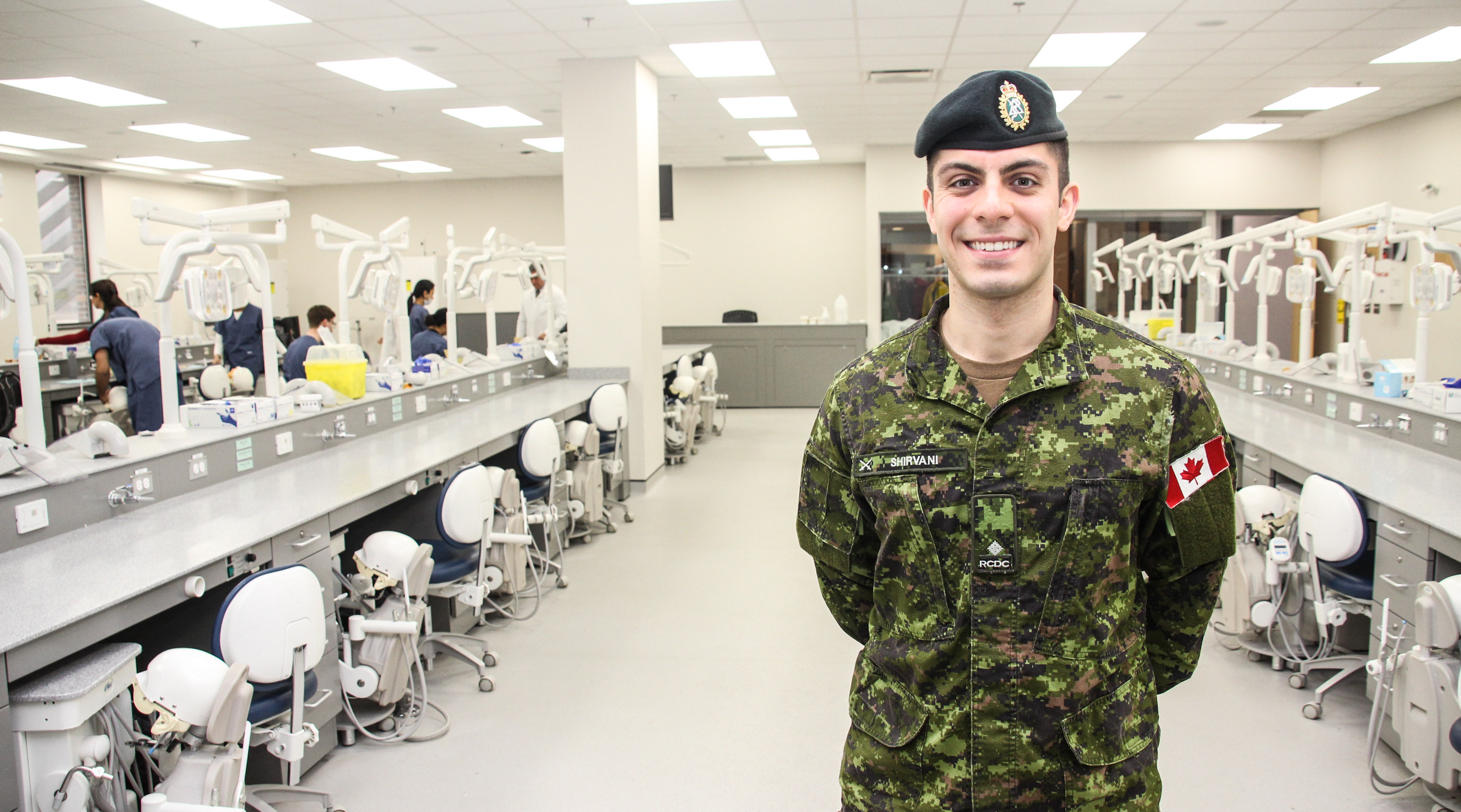 Dental Officer readies for next step in CAF career
By Ryan Melanson,
Trident Staff
For the past eight years, 2Lt Daniel Shirvani has been hard at work at Dalhousie University, first completing his undergraduate degree, and then moving on to the school's prestigious Doctor of Dental Surgery program.
Now, that hard work is paying off. 2Lt Shirvani, who is also enrolled in the CAF's Dental Officer Training Program (DOTP), recently graduated as a member of Dal's 2019 class, and he'll be off to his first posting later this summer to 1 Dental Unit Det at NDHQ in Ottawa.
Finishing up his schooling was an emotional time, saying goodbye to instructors and patients at the school clinic, and reflecting on the thousands of hours of hard work put in to reach this point.
"I've made meaningful relationships and I've been able to make a difference in the lives of some of my patients, which is very rewarding and reassuring," he said.
"But the next three years are going to help me determine what direction I want to take my career in, so I'm very excited to do more and learn more."
2Lt Shirvani, who grew up in Dartmouth, has wanted to be a dentist since high school, following in the footsteps of a number of other health practitioners in his family, but the military interest came later. He attended a CAF presentation during his first year in dental school, and said the combination of competitive pay, benefits, incentives, and other support, along with the chance to serve his country, won him over.
Since then, he's continued through the intense schedule of Dal's dentistry program, sometimes with courseloads in the double digits, while also going through the process of applying and eventually enrolling in the DOTP, beginning his Basic Military Officer Training in the summer, and completing on-the-job training at Stadacona. It's been a test of his organizational and time-management skills, and has been overwhelming at times, he said.
"The Forces absolutely prioritized my education while I was in school, but there was still a lot of juggling with a busy schedule."
"School itself was very challenging," he added. "There's times where you might even feel like a failure, because they set the standards so high."
He feels he's come out a stronger person in the end, however, more equipped to handle both personal and professional challenges in the future.
"It breaks you down and builds you back up. I'm going to keep pushing myself."
2Lt Shirvani is also a first-degree Karate black belt and maintains an active lifestyle, though his busy school and work schedule has taken priority over organized sports in recent years.
Settling into his CAF career and his first posting in Ottawa may be a chance to refocus on physical fitness.
"I know I'm going to be busy with patients, but I also want to experience everything the Forces has to offer," he said, mentioning CAF soccer as a potential avenue.
While he's not sure exactly what his future holds beyond his initial contract, 2Lt Shirvani said he's excited to begin real work as a licensed dentist after nearly a decade of training and intense education. He's not done learning though, and is already looking into specialty CAF training available to dental officers in areas like Prosthodontics or Advanced General Dentistry.
"The career development opportunities are endless, there's just so much to gain going down this path," he said.
"In the interim, I'm going to try to learn as much as I can and enjoy my time."