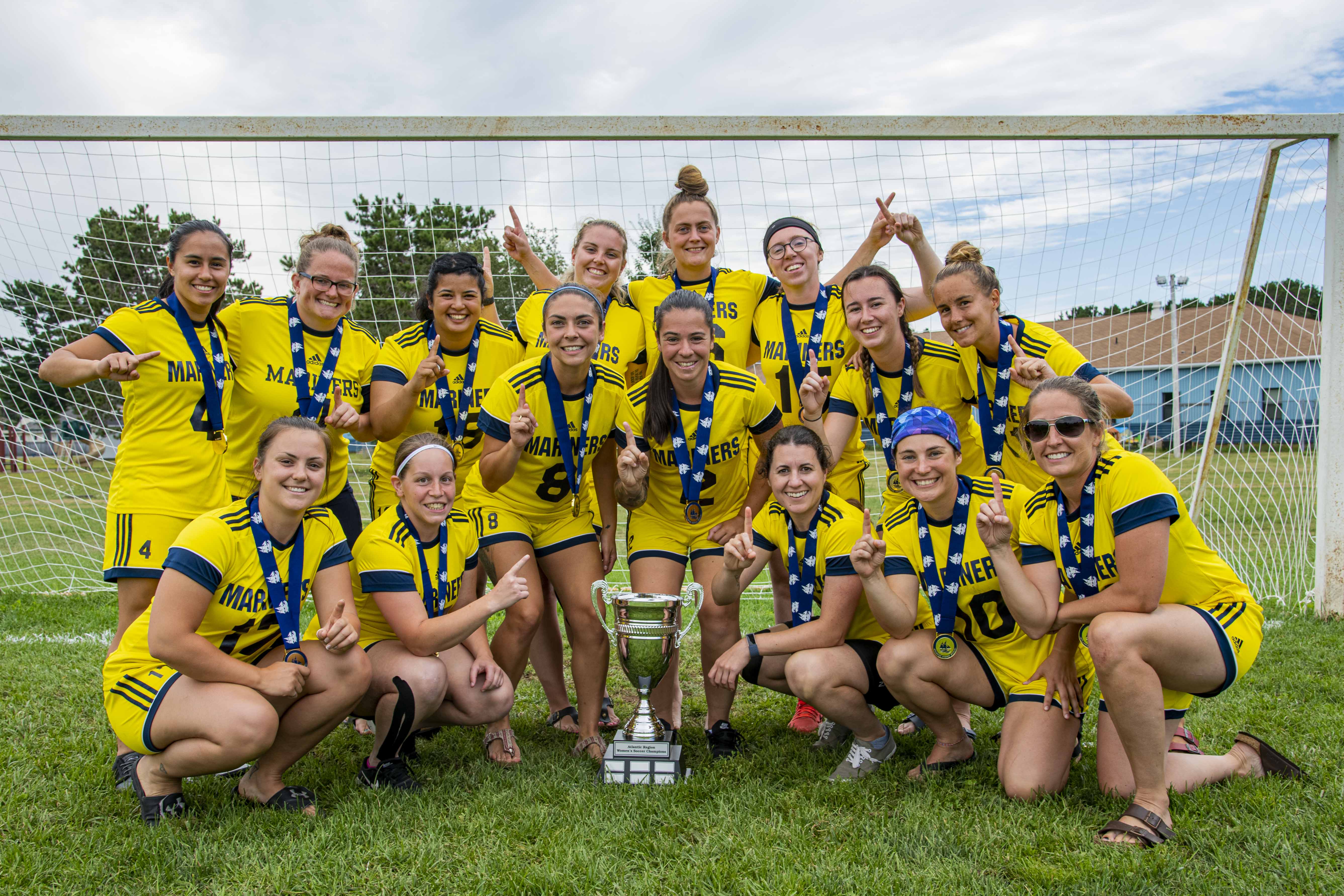 Greenwood men, Halifax women take soccer titles
By Sara White,
Managing Editor, The Aurora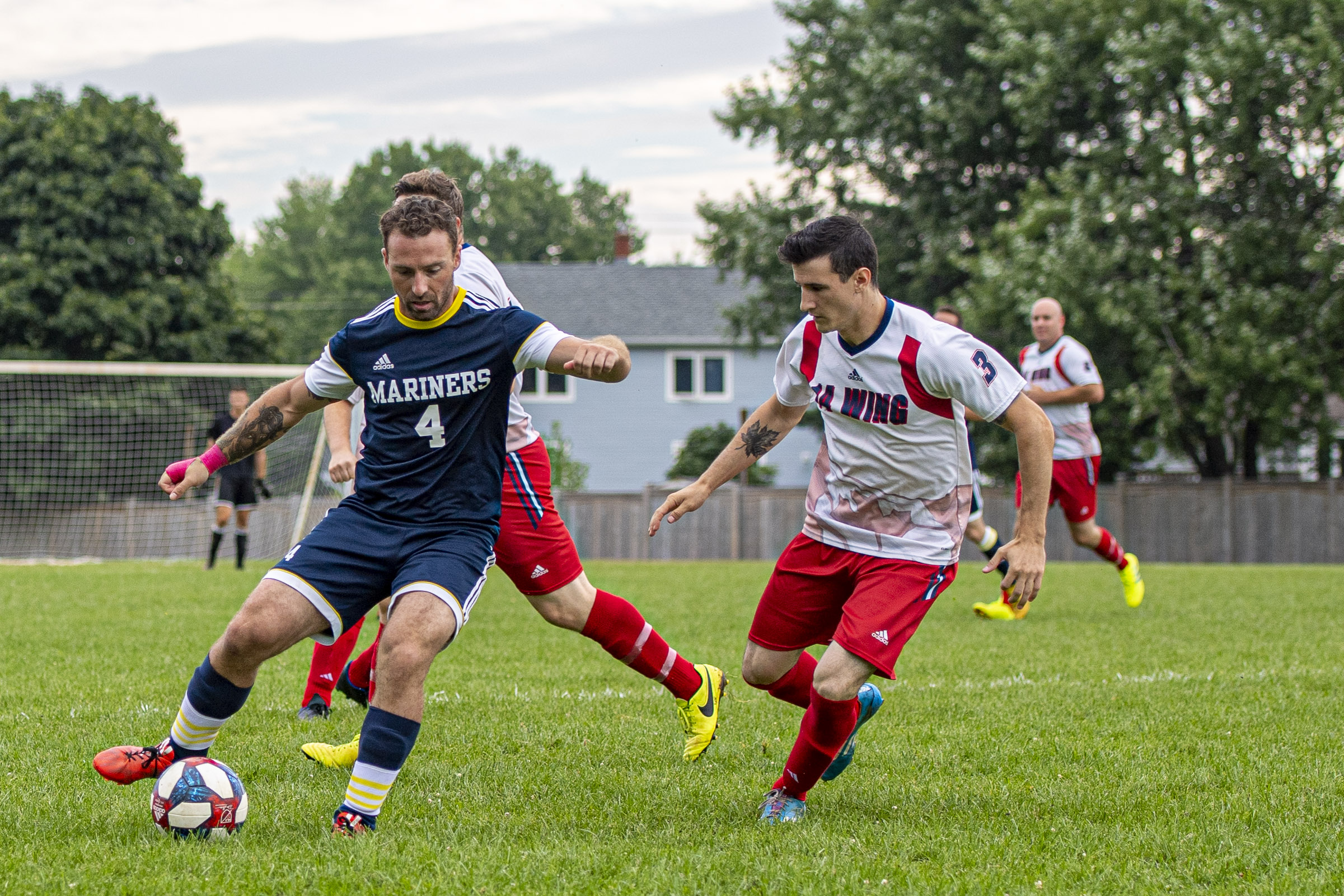 Teams from military bases in Greenwood, Halifax and Gagetown hit the pitch August 20 for the start of the Canadian Armed Forces' Atlantic regionals, being hosted at 14 Wing Greenwood's Apple Bowl field.
14 Wing Commander Colonel Brendan Cook led the requisite opening, but then revealed Greenwood team colours in a jersey worn under his CADPAT shirt, taking the opening kick on goal.
"Have a really great week – the refs, the athletes, everyone else, and play fair," Cook said in his welcome.
"Put your best on the field and, when you go back to your bases, be ambassadors for fitness and sport so that people see what you do, and they get back to the gym."
Teams from Gagetown and Halifax, in both the men's and women's divisions, were accommodated at 5th Canadian Division Support Base Detachment Aldershot.
The women opened the tournament August 20, with CFB Halifax, the defending CAF national champions, beating CFB Gagetown 3-0 after a scoreless first half. Halifax's Kelly Kisa was player of the game. In the afternoon, Halifax defeated 14 Wing 5-0 to earn a spot in the finals. Halifax's Sage Dixon was player of the game.
There was one men's game on opening day, as 14 Wing won 1-0 over Halifax with a goal early in the second half.
On day two, August 21, the 14 Wing women beat Gagetown 2-1 to earn a spot in the semi-final August 22; the men took a bye into the Friday final after beating Gagetown 1-0. The men's semi-final re-matched Halifax and Gagetown: Gagetown won their round robin game 1-0.
The semis August 22 saw the Halifax men come out 9-8 over Gagetown after regulation, extra time and 11 penalty shots – each! In the women's semi, Gagetown defeated Greenwood 3-2 in a close game.
Finals on August 23 started with the women's match, Gagetown versus Halifax. Halifax took the win, earning a spot at the Canadian Armed Forces' nationals in September in Trenton.
The men's match pitted Halifax against the home team from 14 Wing. The game went back and forth, with each team putting two goals on the board. Two 10-minute extra time sessions did not resolve the tie, forcing a shoot-out. After Halifax's fifth shooter did not score, Greenwood took the Atlantic title 3-2.
It has been many more years then ready memory since Greenwood's men's team advanced to nationals; this was also the first year a Greenwood women's team hit the field.
"I wanted to take a moment to commend our women's soccer team for an excellent showing in this year's regionals," Cook said. "Our team fought very hard on the field, finishing 1-1 in the round robin and were narrowly defeated in the semi-finals. I was able to see parts of each of their games and I'm extremely proud of their play. My thanks to each player on our women's team for an excellent showing this year."