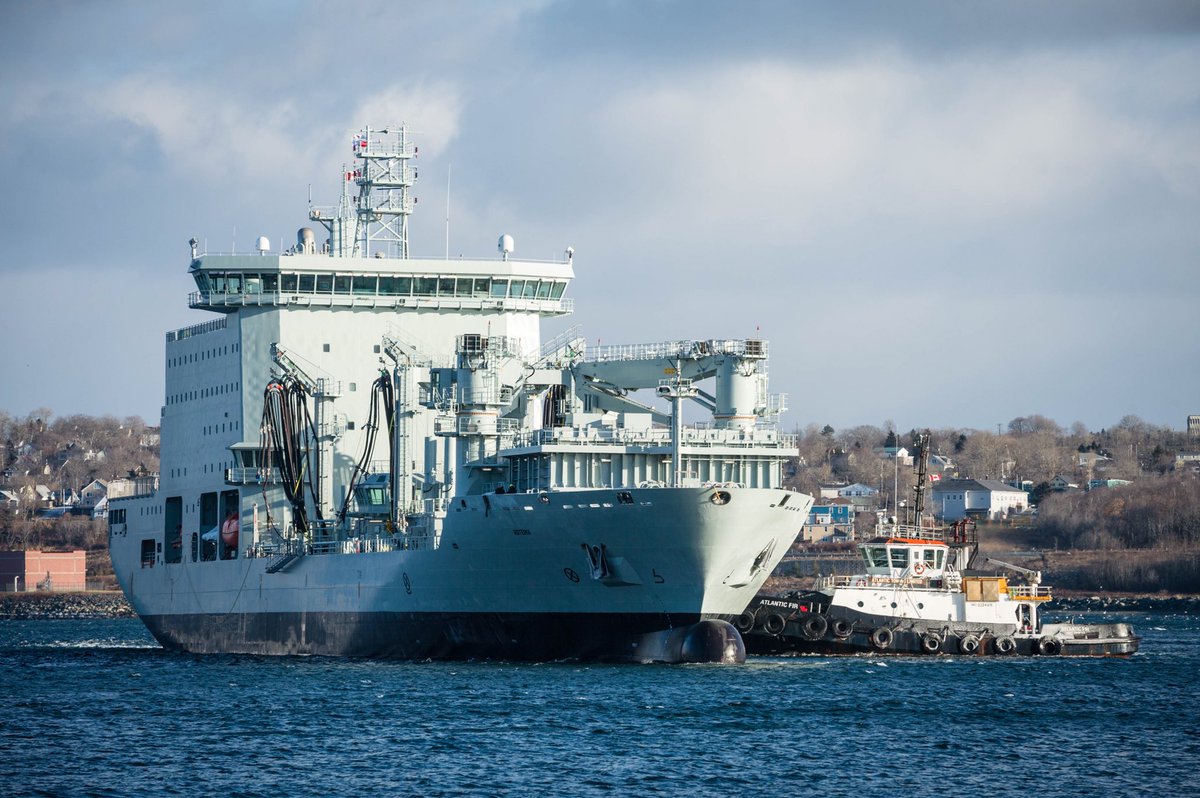 MV Asterix making friends at sea, says Federal Fleet CEO
By Ryan Melanson,
Trident Staff
MV Asterix, the Royal Canadian Navy's interim supply ship, has been in service supporting RCN ship for less than a year, but is already proving itself worthy of the role, according to the CEO of the firm that operates the auxiliary vessel.
Spencer Fraser, the head of Davie Shipbuilding sister company Federal Fleet Services, said Asterix's recent deployment to Exercise RIMPAC 2018 off Hawaii and Exercise KAKADU off the coast of Australia have seen the ship and crew excel at refueling both Canadian and allied ships.
Asterix left Halifax earlier this year, operated on the Eastern Seaboard and sailed through the Panama Canal en route to San Diego before heading towards Hawaii for RIMPAC. When the ship and its crew left San Diego, they weren't only joined by their Canadian counterparts in HMC ships Ottawa and Vancouver.
"We ended up bringing with us a Chilean Type-23 frigate, a Peruvian frigate, a US Coast Guard Deepwater Project, and a bunch of American destroyers along with our own ships," Fraser said.
"What we didn't anticipate, but what is now becoming a de facto reality, is that because of a worldwide shortage of AORs right now in fleets around the world, if you have a tanker, you start collecting friends. This held true all the way across the Pacific."
Fraser spoke about Asterix's first six months in service, and plans for the future, at the 2018 Canadian Defence Security and Aerospace Exhibition (DEFSEC) Atlantic, a large defence industry trade show held in Halifax from October 2-4.
The ship has now performed replenishment at sea with vessels from 15 different countries. Asterix is currently deployed to Op PROJECTION in the Asia-Pacific alongside HMCS Calgary, is due back in Victoria for December, and will likely return to the East Coast in about 18 months, Fraser said.
While DEFSEC attendees heard presentations from Federal Fleet Services, Irving Shipbuilding, the Atlantic Canada Aerospace & Defence Association, and other industry representatives, they also heard from Public Services and Procurement Canada and the  Department of National Defence.
Troy Crosby, Chief of Staff, Materiel for DND, delivered a defence procurement update and outlook, an annual feature at the event.
"We really do appreciate the work our industry partners do to make sure the Canadian Armed Forces have the best services, equipment and most innovative solutions available as our needs evolve. That's what's going to keep our operations and missions successful for years to come and that's one of the reasons it's important for us to be here at DEFSEC," Crosby said.
While he acknowledged the frustrations industry has felt with the slow timeline of procurement projects, he said things are improving on that front, mentioning recent successes like an early start to construction on the Joint Support Ships, the first Arctic and Offshore Patrol Ship now in the water in Halifax, the CH-148 Cyclone heading out on its first deployments, and the progression of the RCAF Future Fighter Capability project, with a request for proposals to be issued in 2019.
"It's true that procurement is a lengthy process , but in the year and a half since Strong, Secure and Engaged was released, we've seen progress on many of our biggest and most complex files."
DEFSEC Atlantic, the second largest trade show of its kind in Canada, also hosted a number of other events through the week in Halifax, including a women's networking event in partnership with Women in Aerospace Canada, and the annual Clash of the Titans hockey game at the Halifax Forum, where an RCN squad took on the Commandos of Esprit de Corps Magazine in support of the Navy League of Canada.