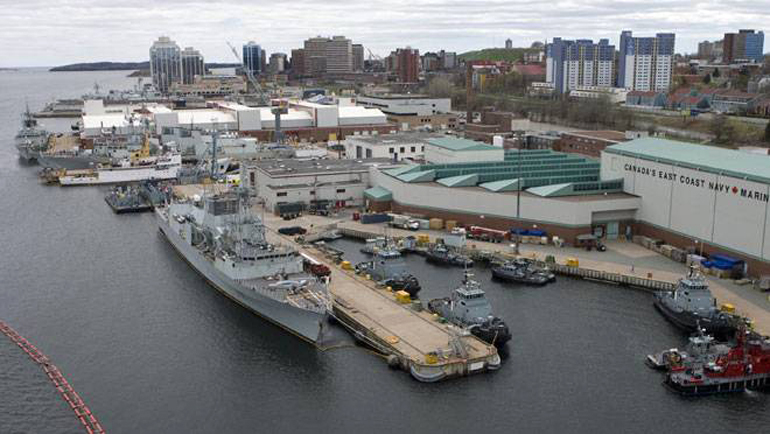 Welcome to Canadian Forces Base (CFB) Halifax, home of Canada's East Coast Navy and the country's largest military base. CFB Halifax provides administrative, logistics, IT and executive services support as well as port operations and emergency services to Maritime Forces Atlantic (MARLANT) and assigned lodger units.
The Base supports approximately 11,000 Canadian Armed Forces (CAF) members and civilian Department of National Defence (DND) employees – most of whom work and live in the Halifax Regional Municipality – as well over 4,500 reservists and 14,000 youth members of the sea, air and army cadet corps in the area.
Our team contributes directly to the local economic community not only as a major employer, but through our members' involvement with various local non-profit and business organizations. Our members are also deeply rooted in the larger Halifax community outside of working hours, volunteering with local charities, at schools, as coaches and more.
---
Bienvenue à la Base des Forces canadiennes (BFC) Halifax, siège de la Marine de la côte Est et la plus grande base militaire du pays. La BFC Halifax fournit aux Forces maritimes de l'Atlantique (FMAR[A]) et aux unités hébergées qui lui sont assignées des services administratifs, des services de logistique, de TI et des services à la direction, en plus de services d'opérations portuaires et d'urgence.
La base comprend environ 11 000 membres des Forces armées canadiennes (FAC) et employés civils du ministère de la Défense nationale (MDN) – dont la plupart travaillent et vivent dans la municipalité régionale d'Halifax – ainsi que plus de 4 500 réservistes et 14 000 jeunes membres des corps de cadets de la Marine, de l'Air et de l'Armée dans la région.
Notre équipe participe directement à l'économie locale, non seulement comme grand employeur, mais aussi grâce à la participation de nos membres à divers organismes locaux sans but lucratif et du milieu des affaires. Nos militaires sont également pleinement intégrés dans la grande région d'Halifax en dehors des heures de travail, en faisant du bénévolat auprès d'organismes de bienfaisance locaux, dans les écoles, comme entraîneurs et plus encore.
La force de la BFC Halifax repose sur son personnel de talent. Nos gens sont au cœur de nos activités et c'est grâce à eux si nous pouvons offrir des services de soutien de classe mondiale qui ont une incidence directe et indirecte sur les opérations et les exercices des FAC, au pays comme à l'étranger.
HMC Dockyard Halifax is located on the western side of Halifax Harbour at the southern end of The Narrows. It hosts the headquarters of Maritime Forces Atlantic (MARLANT), and the Atlantic Fleet. HMC Dockyard Halifax contains berths for Canadian and foreign warships, Formation Supply Facility, Fleet Maintenance Facility Cape Scott, shore-based training facilities, as well as operations buildings for MARLANT and other organizations such as Joint Rescue Coordination Centre Halifax (JRCC Halifax).
HMC Dockyard Halifax also has an adjunct facility directly across the harbour on the Dartmouth shoreline with jetties and various buildings, including Defence Research and Development Canada – Atlantic.
HMC Dockyard Halifax maintains exclusive control of several anchorage areas within the limits of Halifax Harbour and prevents civilian vessels from sailing in the vicinity of military facilities; a floating force protection boom system was constructed to prevent small vessels from unauthorized passage near warships and pier side facilities.

Rear-Admiral Craig Baines enrolled in the Canadian Armed Forces Regular Officer Training Program in 1987. After completing initial naval training, he served as a Bridge Watchkeeping Officer in HMCS SAGUENAY and Deck Officer in HMCS THUNDER.
In 1991, he completed the Destroyer Navigation Officer course and was employed as Navigation Officer in HMC Ships CHIGNECTO and ANNAPOLIS. He graduated from the Maritime Advanced Navigation Officer Course in 1992 and was employed as the Navigation Officer of HMCS PROVIDER. Following the year-long Operations Room Officer course, he served as Operations Officer in HMCS REGINA and Combat Officer in HMCS WINNIPEG.
Returning to sea in 2004, he served as Executive Officer in HMCS CALGARY. In 2007, he was appointed Commanding Officer of HMCS WINNIPEG where he received the Meritorious Service Cross for his leadership during WINNIPEG's counter-piracy mission off the Horn of Africa.
Rear-Admiral Baines' staff appointments include Staff Officer at HMCS UNICORN, the Naval Reserve Division in Saskatoon.  He served abroad in Norfolk, Virginia with the US Navy's Second Fleet.  He worked at National Defence Headquarters in Ottawa in both the Directorate of Maritime Training and Education and as the Maritime Staff Director of Strategic Communications. In 2010, he was appointed as the Base Commander of Canadian Forces Base Esquimalt.  Prior to becoming Fleet Commander of Canadian Fleet Atlantic, he served as Special Advisor to the Chief of Defence Staff.
His education includes a Bachelor of Arts degree from University of Manitoba. While on exchange in Norfolk, he completed the US Naval War College program and a graduate certificate program in the History of Strategy and Policy at Old Dominion University. He completed the Canadian Forces College Joint Command and Staff Program concurrent with his Master of Defence Studies. In 2013, he completed the National Security Program and a Master of Public Administration.
He was appointed as Commander Canadian Fleet Atlantic in July 2014. During his 3 year posting as Fleet Commander, he sailed extensively with the Fleet and participated in major international exercises including Trident Juncture 2015, Joint Warrior 152 and Cutlass Fury 2016. Rear-Admiral Baines assumed Command of Maritime Forces Atlantic in August of 2017.
Maritime Forces Atlantic is a key contributor to marine security through its strategic location in Halifax, astride the major trading routes to and from Europe, the United States, South America, and all points of the globe for that matter.
Located within Her Majesty's Canadian Dockyard Halifax is the hub of all Maritime Forces Atlantic output. The Maritime Forces Atlantic Headquarters is the control centre from which the Commander and his support staff evaluate and execute daily undertakings, while providing direction to subordinate units.
Canadian Forces Base Halifax has come a long way since the founding of the Naval Yard in 1759 and continues to provide outstanding support to the Fleet and the Department of National Defence team.
Canadian Forces Base Halifax provides materiel, administrative, logistical and operational support to Joint Task Force Atlantic, Maritime Forces Atlantic and lodger units. The Base Commander's team is made up of military and civilian members headed by five Branch Heads. Under the supervision of the Chief of Staff, and reporting to the Base Commander, the Branch Heads provide construction engineering, logistics (including transportation and electro-mechanical engineering), administration, safety and environmental management and base operations (including Military Police and security).
Canadian Forces Base Halifax is the largest military base in Canada, serving a workforce of approximately 7,500 military and 2,300 civilian members, and aims to be the most progressive and modern Defence Team in the country, essential to operational success and integral to the community.
Canadian Forces Station St. John's is an operational support station situated in St. John's, N.L. It employs approximately 85 military and civilian personnel with the purpose of providing operational and logistical support to 11 lodger units and essential support to military ships visiting the City of St. John's. The Station is also responsible for providing immediate response to crisis situations on the Avalon Peninsula.

In today's ever-changing and complex environment, the Canadian Fleet Atlantic is responsible for generating naval forces to respond to Canada's needs domestically and abroad, oftentimes at a moment's notice. Tasks include deep sea operations, coastal operations, humanitarian aid and non-combatant evacuation operations.
Furthermore, the Canadian Fleet Atlantic sustains and champions coastal, diving and submarine forces wherever they are required to go – whether it is the far North or the waters of the Caribbean Basin, the Arabian Sea, and beyond.
In order to meet ongoing mission demands, the Canadian Fleet Atlantic maintains a force generation that cultivates all aspects of manpower, equipment, training and sustainability.
Operationally focused and fully mobile, the Canadian Fleet Atlantic staff can direct task forces both from ashore and while at sea on board a Royal Canadian Navy vessel, if required. When necessary, elements of the staff are capable of mobilizing around the world in support of operations. When serving in the Fleet, Canadian sailors spend on average 200 days a year at sea.
The Canadian Fleet Atlantic consists mainly of the following units:
• A Fleet of 18 Her Majesty's Canadian Ships
: Seven Multi-Role Patrol Frigates, six Maritime Coastal Defence Vessels, two Area Air Defence Destroyers, one Auxiliary Oil Replenishment Supply Ship, and two Long Range Patrol Submarines.
• Fifth Maritime Operations Group
: Providing logistics, administrative and technical support as well as planning and operations staff to the Canadian Fleet Atlantic units.
• Sea Training Atlantic: 
Providing training, expertise, and operational assessment support to the Atlantic Fleet.
• Fleet Diving Unit Atlantic: 
The fully operational unit consists of approximately 120 divers and support staff trained in mine countermeasures, routine and emergency underwater repairs, explosive ordinance disposal, seabed searches, dive equipment and maintenance repair, submarine rescue, dive training, and support to other government agencies.

Located within Her Majesty's Canadian Dockyard Halifax, the Fleet Maintenance Facility Cape Scott is the largest military industrial complex in Canada.
The team is comprised of combined military and civilian personnel who support the Commander of Maritime Forces Atlantic by providing effective and efficient engineering and maintenance services toward the 18 vessels that form the Canadian Atlantic Fleet.
Responsibilities include providing reliable and solid engineering and maintenance direction, consultation and technical risk management to help ensure that Maritime Forces Atlantic can generate, employ, and maintain an effective fleet.