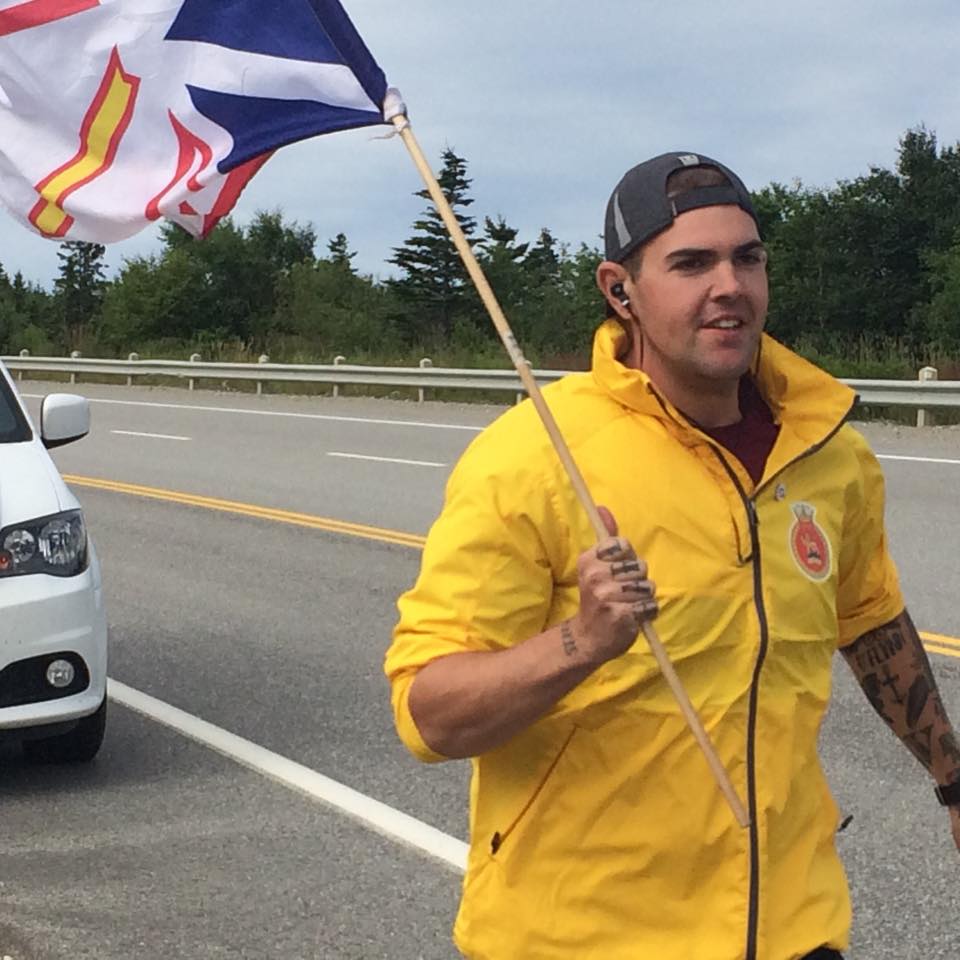 Twice the man, half the weight
By SLt Derek Frank,
HMCS St. John's
"It took three years to lose the weight," said OS Matt O'Flynn, a naval communicator from Barrie, ON.
"When I first started it was too painful to undertake physical activity. Just by changing my diet I was able to lose 70 lbs just like that."
By the time he was sworn in on November 5, 2015, OS O'Flynn had shed over half his weight, from 410lbs down to a healthy 200 lbs.                                                                                                                          
"I always knew I wanted to join the Navy and be a diver."
When O'Flynn was young, his father enrolled him in various activities. He played hockey, sailed in the summer, and skied several times a week through the winter. At age 13, O'Flynn enrolled in the Royal Canadian Sea Cadets, a choice that would shape who he is today. Thriving in the structure provided by being a cadet, O'Flynn was deeply influenced by his first exposure to a military lifestyle. "I fell in love with it," said OS O'Flynn "I knew that I wanted to join the Navy ever since."           
O'Flynn had lost sight of his childhood dream of enlisting in the RCN, daunted by his weight. "I spent the majority of my life, and entirety of my childhood as 'the big kid' or 'the fat guy.'" After high school, he struggled to find work and was depressed by the state of his body and health. "It was one of the lowest times in my life." Moving away from home to start a new job in Banff, AB was the catalyst to turning his life around. "All of these people were out hiking, skiing, biking or running. It was as simple as waking up one day and saying to myself, 'I want to be fit..'"
It was very difficult in the beginning. "Being over 400 pounds getting into fitness is not only painful but also terrifying" recalls OS O'Flynn. "I would attempt to run, but the pain in my knees and back was almost as bad as the thoughts I had of people making fun of me."                                         
O'Flynn quickly re-evaluated his weight loss strategy. "I began doing some research on dieting, healthy weight loss and nutrition." By changing his eating habits, O'Flynn began to lose the first 70 lbs. What he lost in weight, he gained in confidence, and he eventually defined his goals: weigh 200 lbs, join the Navy, and become a diver.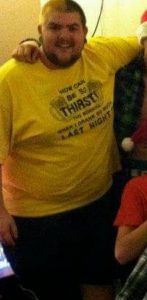 Upon moving back to Ontario to begin his studies at Laurentian University, O'Flynn met some new friends that convinced him to give weight lifting a try. "The first time I stepped into the gym all I could think to myself was 'I do not fit in here.' I had no idea how the machines worked, or how to do any exercises with free weights. I was simply a fat guy taking up space." By persevering, he managed to gain the knowledge and confidence to feel comfortable at the gym.                                                        
As he became more committed to the gym, O'Flynn discovered that running was what truly made him happy. Thankful for those friends who had helped him get to this point, O'Flynn met a new friend in residence who was on the university track and field team who helped him create a training program and fitness plan. "She even took me to my first organized race."        
Between his new passion for running, weight training program, and healthy diet, the weight began to melt away. He was committed to work hard every day, recalling one morning when he was walking to the gym at 5:30 a.m. in the middle of a northern Ontario winter. O'Flynn began to see real progress as he began to run longer, faster, lift more weight, and the size of his clothing shrink. "The first real profound moment for me was when I was able to walk into a store and buy clothing off the rack. No longer did I need an 5XL shirt, or 56 inch pants" said O'Flynn.
"For the first time I felt like I fit in. I was not some oddity, I was just like everyone else." O'Flynn reached his weight goal in March 2015 and his weight even dropped to 169 lbs. "I didn't feel right at that weight," he said, and decided to return to a base weight of around 200 lbs.                                                                         
O'Flynn was sworn in to the Canadian Armed Forces on November 5, 2015, flying to St. Jean-sur-Richelieu two days later to complete his basic training. Upon arrival to Halifax, he focused in on his next goal: to become a ship's team diver. OS O'Flynn powered through his QL4 package, begging his chain of command to send him on the dive course, which he successfully completed in December 2017. OS O'Flynn credits the colleagues he met on the course for finalizing his transformation into a Navy diver: "PO2 Amos, LS Laphen, and LS Roocroft really had an impact on the way I want to live my life. I don't know if they will ever get a chance to read this but if they do, I would really like to thank them."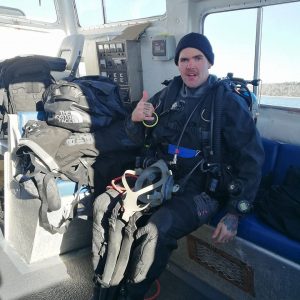 Now, OS O'Flynn's biggest fear is going backwards. "Nothing scares me more than the thought of ending up where I was before," he said. "I would also really like to start sorting out the mental aspect that comes with the physical change. I still struggle a lot with my body image, and I hope to find a way to really deal with that." When at sea, OS O'Flynn remains dedicated to maintaining his health and fitness. He goes to the gym every day while on his off-watch, sometimes "crushing a few push-ups in the CCR," and manages his diet by sticking to oatmeal and avoiding fried foods. He even brings his own meal supplements and protein bars.
When he is home, OS O'Flynn and his father run together every day. "My dad has always been fit so he was excited for me to take up the lifestyle," he said. "But now I am starting to beat him at everything." Having accomplished what he set out to do a few years ago, OS O'Flynn is considering what is next for him. "I am not really sure what I want next" he said. In the meantime, he has become more career oriented. "I have a university degree, so commissioning is something that has really caught my interest, but for now I will focus on becoming more proficient at my trade." As for his fitness goals, OS O'Flynn mentioned that a marathon may lie ahead.