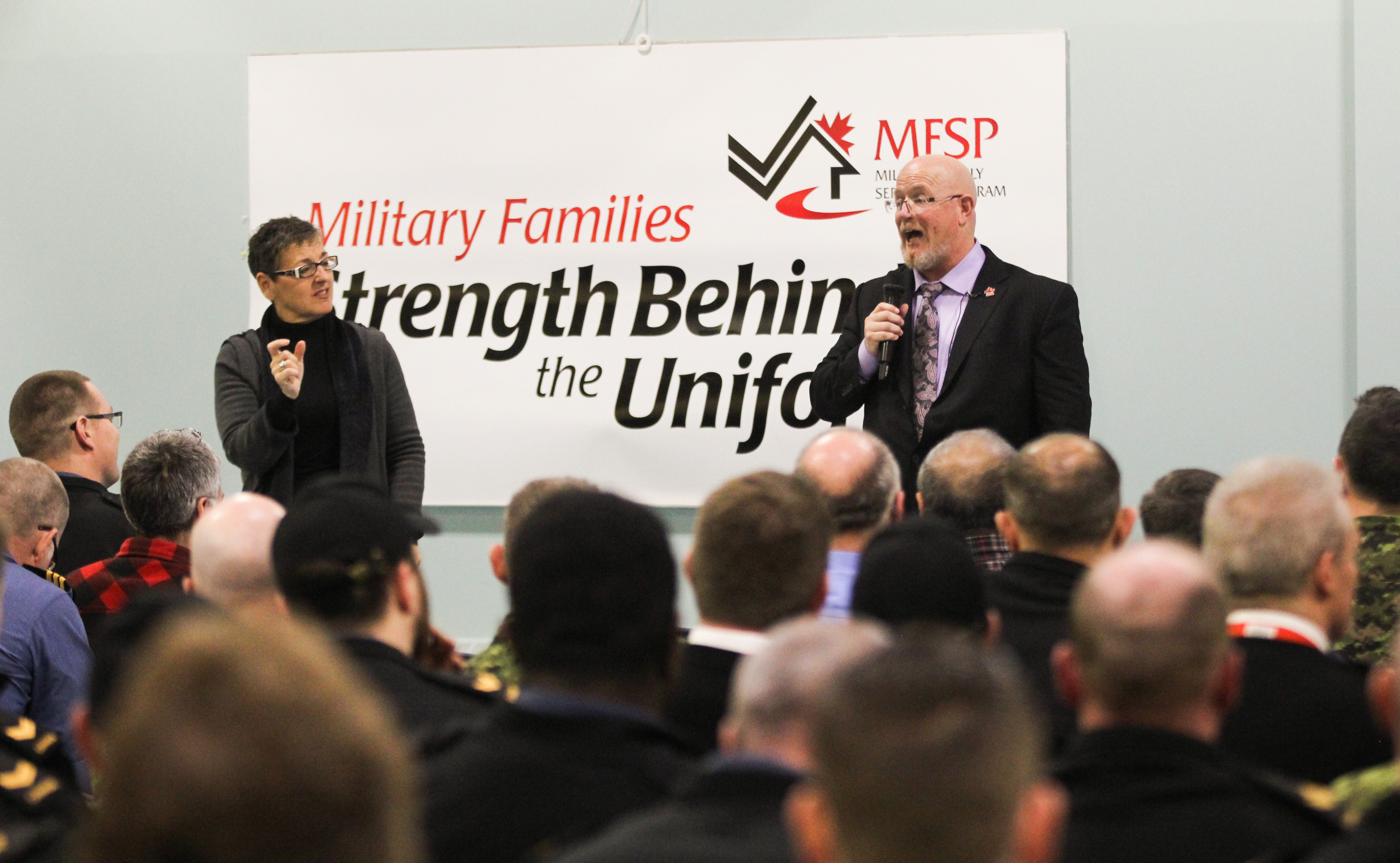 Retired sailor shares story of resilience and optimism
By Ryan Melanson,
Trident Staff
Eric Payne spent 23 years in the Royal Canadian Navy, deployed around the world on multiple occasions, and loved going to sea. He had every intention of continuing his naval career and moving up the ranks. Life, however, had other plans.
Shortly after returning from an Arctic deployment to CFS Alert in the spring of 2005, Payne was in a motorcycle accident that resulted in traumatic injuries to his left leg, and after initial surgeries and attempts to save the limb, it was amputated above the knee. 
"I had a five-year plan on the 18th of April, 2005, and that plan went right out the door on the 19th," Payne said, speaking to members of the CFB Halifax Community in Windsor Park on December 4.
A Master Seaman at the time, Payne began the process of being medically released as he adjusted to his new life and prosthetic leg, and by 2007, he was no longer a member of the CAF, something that he described as a very hard blow at the time.
"I was hoping I could be classified as a pirate after this happened, so I could stay in the Navy," he joked.
"I always loved it, and even now I still love just to come back to the base."
Payne was the guest speaker at an event recognizing the International Day of Persons with Disabilities, which falls on December 3 each year. He was invited by the CFB Halifax Defence Advisory Group for Persons with Disabilities to share his story, which includes his difficult transition and struggles with government support and policies, but also the ways in which he's used his situation to his advantage to open up new life and career opportunities.
He took to motivational speaking, and in 2011 went a step further, getting on stage at an open-mic comedy night and using his stories to bring joy and laughter to others. Since then, he's performed stand-up across Canada and shared the stage with many prominent comedians, logging up to 20 performances a year. He's also deeply involved with para-sports in his home province of Prince Edward Island, and has experience with wheelchair rugby, wheelchair tennis, adaptive skiing, ping pong, and more. Payne was a hockey player during his time with the CAF, however, and said he didn't find his true parasport calling until his first time on the ice playing sledge hockey.
"At this point I'm a 40-year-old amputee, so playing the sport of hockey again didn't seem likely. They got me on a sled, I got two sticks in my hand and I was on the ice with a puck. And I thought 'I can really do this,'" he said.
He's now the manager of the PEI Icebreakers Sledge Hockey team, and has been named a national ambassador for the sport by Hockey Canada. He's also been active with the Soldier On program, and has worked in various other capacities to get more people involved in para-sports.
Living with a disability also brought struggles, especially early on, and Payne said he's become well versed in issues that affect people with disabilities such as inaccessible public spaces and inconsistencies in government support from province to province or through private insurance. He's sat on provincial boards to advocate for others in his position, serves with the non-profit VETS Canada, and has been a policy advisor to the CAF regarding veterans who were injured in Afghanistan, all in the hope that others can have a smoother path on their own roads to recovery.
"I'm out in the community, I stay active and I'm involved as much as possible… I'm more capable and qualified to do more things now than I ever was when I had two legs," he said.