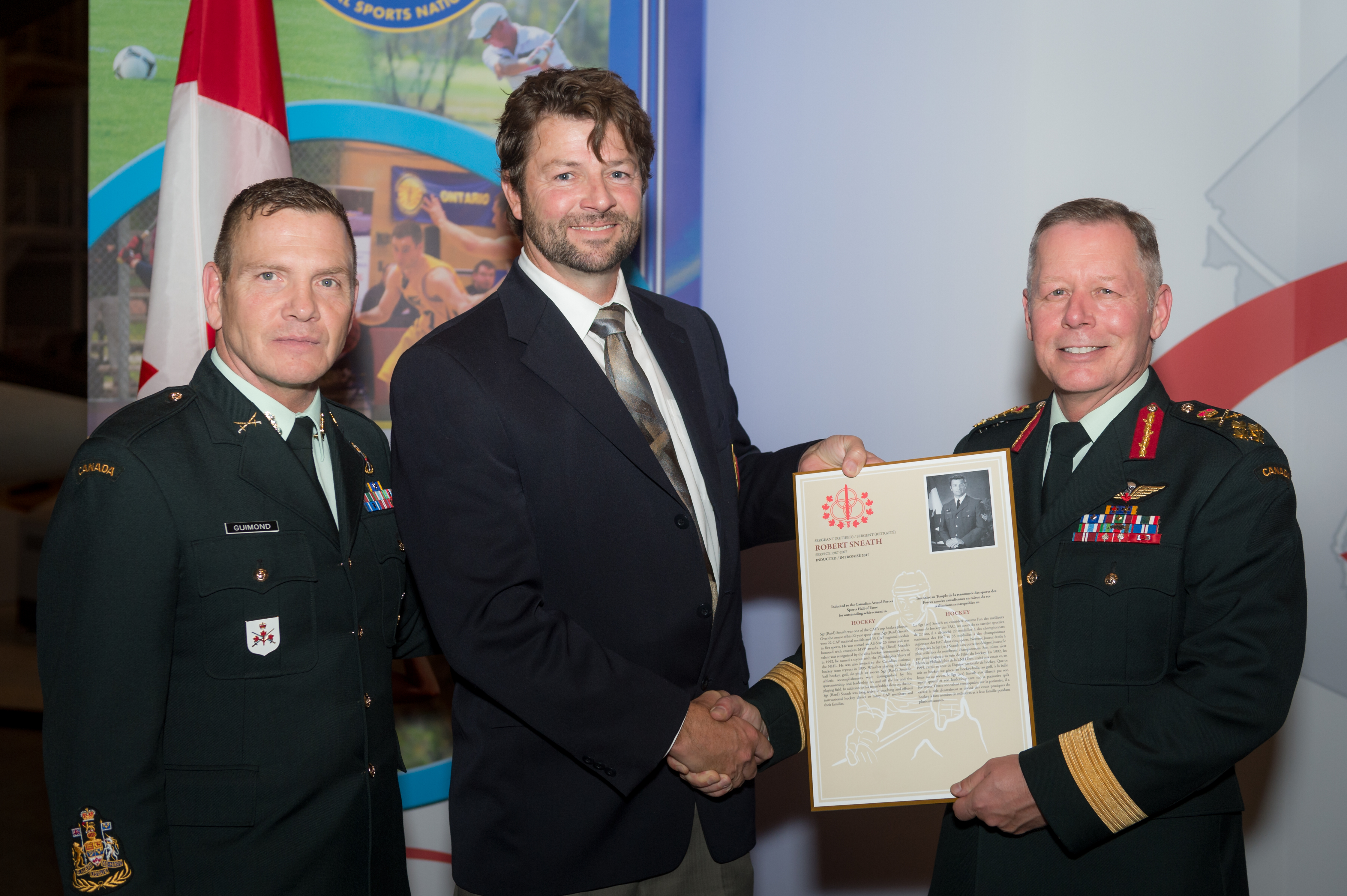 Military community remembers Sgt (Ret'd) Rob Sneath, a CAF hockey icon
By Ryan Melanson,
Trident Staff
"He should have played in the NHL."
That's the phrase that gets repeated most often as Wally Bukowski talks about his colleague and close friend Sgt (Ret'd) Rob Sneath, who many regard as the best hockey player to ever suit up for a Canadian Armed Forces team.
"He always wore the C, but that was about more than just hockey and the dressing room, it was also about his character off the ice and how he treated people," said Bukowski, the Sports Stores Technician at the Shearwater Fitness and Sports Centre.
"He could motivate guys and get people to play better than they ever had before."
Sneath took home a remarkable 22 medals from CAF National Hockey Championships during his 24-year military career, along with even more regional titles in five different sports, and countless MVP awards and all-star selections. Sometimes known as the 'Gretzky of the CAF', he wowed other athletes every time he took to the rink, and everyone knew that being on a team with Sneath always meant a shot at winning it all.
Sneath died on November 27 at the age of 52 after a battle with melanoma, just weeks after travelling to Ottawa for his official induction to the CAF Sports Hall of Fame.
Originally from Brantford, Ontario, the same hometown as Gretzky himself, Sneath grew up playing hockey, lacrosse and other sports, and along with his brother Frank, had a natural athletic talent that only progressed as he got older. At the age of 27, playing with CFB Esquimalt, Sneath was picked for a walk-on tryout with the NHL's Philadelphia Flyers, almost unheard of for an undiscovered player of that age, and that was followed by a tryout with Canada's national team a few years later.
Those opportunities didn't work out, but Sneath got to live out his dream a little later in life, playing in arenas around the Maritimes with the NHL Oldtimers alumni tour, sharing the ice with legends like Brian Trottier and Glenn Anderson who recognized his skill and called him up each year to take part.
"Those guys treated him so great, and the truth is when he played in those games, he was better than the NHL guys were," Bukowski said.
Few have shared the ice with Sneath as often as MWO Wade Sutton, a CAF hockey legend in his own right and a fellow CAF Sports Hall of Fame inductee. They won plenty of tournaments as teammates, but also grew to be close friends, and the time spent together outside the rink was just as memorable.
"Anyone who had the pleasure of meeting, spending time with and playing hockey with Rob, realized very quickly that he was special. He was funny, passionate, quiet and very humble, and he treated everyone with respect, no matter who they were," MWO Sutton said.
"And hockey was his passion but his family came first. He loved spending time with his family, especially his kids, and being heavily involved in each of their passions."
Sneath released from the CAF in 2008, but he didn't go far, choosing to settle in the Halifax area and stay involved in the local military and hockey communities. He joined the team at PSP Halifax and, in typical Sneath style, quickly became an indispensable piece of the organization.
Missy Sonier, PSP's Corporate Services Manager in Halifax and Sneath's longtime colleague, said his friendly presence in the office and his unstoppable work ethic will be sorely missed. From planning the annual Family Days event and DND Appreciation Nights with the Halifax Mooseheads, to working with sponsors and advertisers, his trademark leadership skills and level-headedness were just as effective in the workplace as on the ice.
"He was always there for me, for anything I needed him to do, but he was so much more than that," Sonier said.
"Rob was my rock, and it's going to be a big change going forward without him."
In recent years, giving back to the sport of hockey and helping others was also a focus for Sneath. Those who knew him will bring up his garage full of old hockey gear that he would offer without hesitation to young players who had trouble affording equipment, or the pride he showed in being able to teach hockey skills and skating to the next generation, especially when his kids would come along and take part. He often volunteered his time to help out others with hockey, both informally with other CAF members and their families, or with large events like the annual Play On! ball hockey tournaments. He also used his skills as a coach on multiple occasions, and worked behind the bench for the CFB Halifax women's hockey team when the women's game was first being established in the CAF. Even as he fought his illness, he remained a fixture at the Shearwater Arena and was even on the ice for a game as recently as last Christmas. A large banner with his Shearwater Flyers #27 was hung from the ceiling at the Arena last year.
"It's incredible what he was able to accomplish, and how much he gave back, in his 52 years," Bukowski said.
A celebration of Rob's life was held on December 2 in Shearwater, with many members of the local defence community coming out to remember their friend, and a similar celebration was held in Brantford, while condolences and fond memories of Sneath have poured in from across the country from others who served and played alongside Sneath earlier in his career. He leaves behind his children Ally, Robbie and Carlee and his loving partner Kerri, along with his parents Hap and Artie, siblings Frank and Barb, six nieces and nephews, and his large extended family of hockey teammates, CAF colleagues and other friends.
Sneath will be missed, but his memory will live on at CFB Halifax, 12 Wing Shearwater and across the country with all those who got to know him and witness his larger-than-life presence, both on and off the ice.