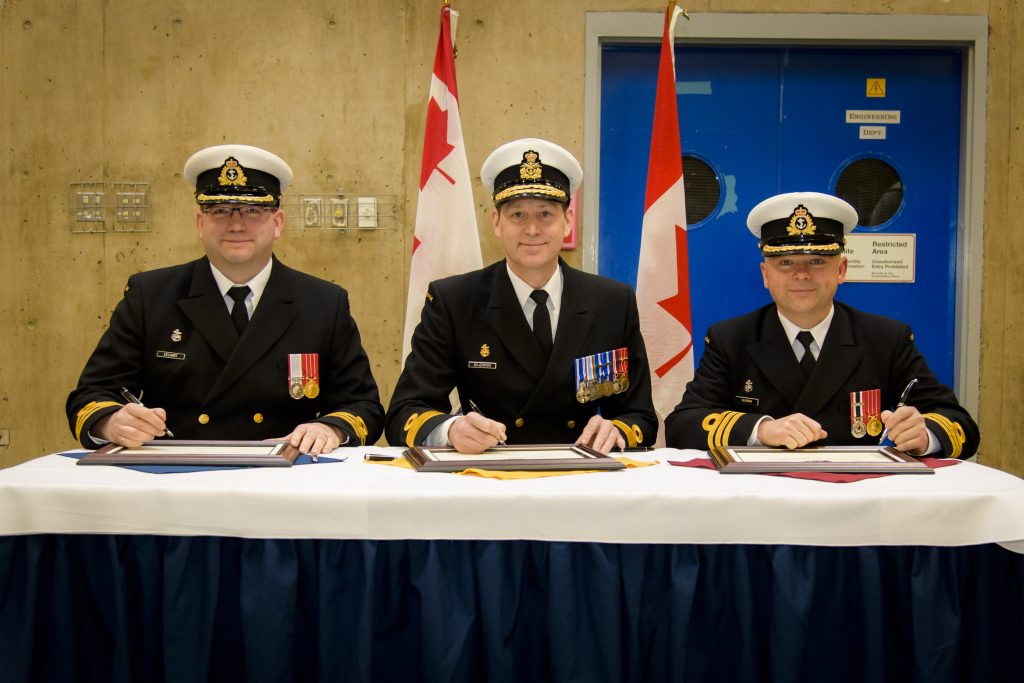 HMCS Montreal gets new CO after busy X-Ship period
By Ryan Melanson,
Trident Staff
The crew of HMCS Montreal have accomplished a lot since Cdr Chris Sherban took command of the ship about 18 months ago. They've tested innovative ideas as the Navy's X-Ship, sailed to the Arctic on Op NANOOK, helped with flood relief in Quebec, and participated in NATO missile exercises, among other taskings.
"We've spent more time at sea than any other ship in the Navy, and I was truly blessed with a great ship's company to do it with," the outgoing CO said on January 9 during the ship's Change of Command ceremony at HMCS Scotian.
"None of the accomplishments of the ship over the last year and a half would have been possible without the men and women of HMCS Montreal."
Cmdre Craig Skjerpen, Commander CANFLTLANT, credited Cdr Sherban for taking on the enormous responsibility of commanding a warship, and for his successes in leading Montreal through the experimental X-Ship phase, testing new crewing models, naval concepts, technologies and weaponry.
"The ship has helped us make advancements in different areas that have not only changed the Navy we have today, but that work will get us ready for the future Navy and the Canadian Surface Combatant," Cmdre Skjerpen said. He specifically mentioned Montreal's extensive trials with the CH-148 Cyclone, which laid the groundwork for plans to have HMCS Ville de Quebec deploy to Op REASSURANCE with an embarked Cyclone later this year.
Cdr Sherban highlighted other members of his command team and ship's company, Cmdre Skjerpen himself, his wife Karla and daughters Stella and Caroline for the support that carried him through the highs and lows of his time in command.
He'll be replaced by incoming CO Cdr Mike Eelhart, a former CO of HMCS Moncton and former XO of both HMCS Montreal and Toronto. The two know each other well and have worked together, and Cdr Sherban said the knowledge that Montreal will be in very capable hands lessens the sting of handing over the reins.
And to help him get acclimated to the culture of his new ship, Cdr Sherban gifted Cdr Eelhart, an Edmonton Oilers fan from Alberta, with a new Montreal Canadiens jersey, explaining that any fandom for other teams will need to be put on hold for the time being.
In a few brief remarks to his new crew, Cdr Eelhart said he owed thanks to his family and all of the colleagues he's worked with throughout his career for supporting him up to this point.
"I wouldn't be here without all of you," he said.
He thanked Cmdre Skjerpen for continuing to challenge him with this new role, and promised to run his ship with compassion and mutual respect for his crew to create a positive workplace.
HMCS Montreal will soon be moved over to Irving Shipbuilding facilities to begin its docking work period, while the crew and command team will work from a shore office until the ship returns later this year.