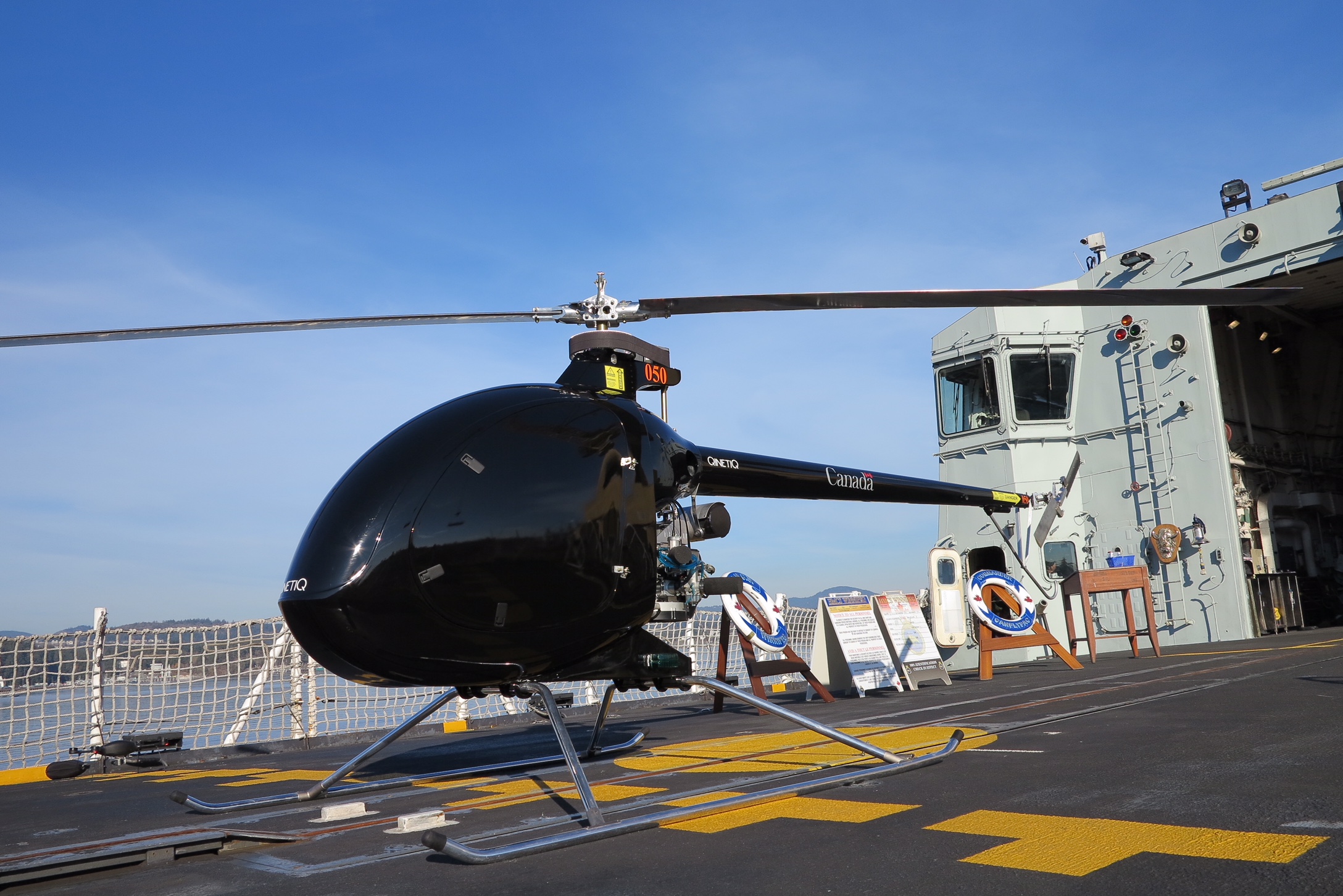 RCN on track to acquire Unmanned Aircraft Systems (UAS)
By CPO1 Darryl DeJong,
DGNFD
Strong, Secure, Engaged outlines the Government's over-arching intent to invest in an extensive range of new capabilities for the Canadian Armed Forces (CAF) by acquiring a fleet of remotely piloted systems (RPS) for the Royal Canadian Navy (RCN), the Canadian Army (CA), and the Royal Canadian Air Force (RCAF), which includes remotely piloted aerial systems.
Over the last decade, the RCN has maintained its course in investigating and developing a robust Unmanned System programme. The Director of Naval Requirements (DNR) is leading phase 1 of this programme with the acquisition of a family of Unmanned Aircraft System (UAS) that can be operated from all Canadian warships in order to provide near real-time, intelligence, surveillance, target acquisition, and reconnaissance (ISTAR) information. As a force multiplier, it will provide information required to extend a commander's situational awareness beyond the maximum range of the Harpoon Block II missile, increase interoperability with joint forces ashore, and ensure that the Halifax-class maintains a tactical advantage over potential threats, all the while minimizing risk to the ship and maritime helicopter. UAS provide stealth, persistence, versatility, and affordability, while reducing the risk to human life and expensive military assets.
Additionally, they permit valuable maritime helicopter flight hours to be used for those tasks that a UAS is less suited for, such as anti-submarine warfare (ASW), application of force, medical evacuation, and personnel movements.
UAS plays a critical role by extending the reach of the communication and sensor capability over contentious or hostile areas during maritime security operations. During the RCN's contribution to military intervention in Libya (Operation MOBILE, 2011), the operational requirements for sustained and continuous littoral ISR capabilities were reinforced. Through cueing, detection, surveillance, and reporting from the shipborne ScanEagle UAS, Halifax-class frigates deployed on Operation ARTEMIS were able to interrupt terrorist funding activities by intercepting multiple illicit narcotics shipments. Combined, the narcotics shipments intercepted by HMC Ships Charlottetown, Toronto, and Regina amounted to over nine metric tons. Additionally, the UAS reduced the risk to CAF MIO maneuver elements by providing visual surveillance back to the ship during boarding operations. Ships were also able to receive early warning beyond fitted sensor ranges of vessels of interest and foreign military warships attempting to gain information on the ship's operations.
On October 25, 2016, DNR conducted a capability demonstration onboard Summerside where the AeroVironment RQ-20 Puma UAV was evaluated. In May 2017, the RCN received expenditure authority to acquire a minimum of two Maritime Mini Unmanned Aircraft System (MMUAS) in order to provide Kingston-Class vessels with a sustainable shipborne, near real time, Beyond Visual Line Of Sight (BVLOS) ISR capability with an expected capability introduction in 2018. A request for proposal (RFP) has been released by Public Works and Government Service Canada and can be accessed through https://buyandsell.gc.ca/procurement-data/tender-notice/PW-QD-001-26522.
More recently, the RCN re-affirmed its commitment to progress its programme. In early November 2017, HMCS Winnipeg successfully conducted a Maritime Evaluation of Class 1 Rotary Wing Unmanned Aircraft Systems – Targets (RW UAS-T) capability demonstration, at sea. The purpose of this demonstration was to identify future slow moving or stationary air targets that could be used to carry out live firing training, experiment with new RCN Anti-air Warfare (AAW) requirements, provide force protection live scenarios, and conduct Test & Evaluation (T&E) including jamming on UAS for shipborne EW capability.
The RCN in co-operation with QinetiQ Target Systems (QTS) Canada carried out the demonstration under the Unmanned Targets Repair, Overhaul and Engineering contract, awarded to QTS in 2015.
As the development of remotely piloted systems increases, this technology is proliferating among potential adversaries. Expanded proliferation, combined with technological advancement, will mean that Canada is faced with a variety of possible threats from remotely piloted systems. These range from non-state actors using unsophisticated and commercially available remotely piloted aerial systems to conduct reconnaissance, to advanced potential state adversaries developing high-end, weaponized systems. In response, Canada will require the appropriate capabilities to identify and defend against these burgeoning threats.
In keeping with the Canadian Defence Policy objectives, QTS flew multiple RW UAS-T scenarios to simulate potential warfare threats. One scenario used QTS's Snyper multi-rotor target using QTS's Universal Target Control Station (UTCS), which allowed the operation of multiple unmanned systems from a single command center. The RCN has leveraged QTS for the employment of fixed wing aerial targets and marine surface targets will pave the way forward for future UAS development and employment.
The information and results obtained during the Maritime Evaluation are vital for the RCN's development of unmanned systems use at sea, and the evaluation of ships' critical defence systems. We are very pleased with the support that QinetiQ Target Systems provided to us during this demonstration.
The Remote Mine Hunting and Disposal System will be a modular, stand-off naval mine countermeasures capability, designed to provide the full spectrum of naval mine hunting operations and contribute to underwater domain awareness.
The RCN ISTAR UAS will be a shipborne, complementary, persistent, near-real time, over the horizon, intelligence, surveillance, target acquisition and reconnaissance (ISTAR) capability that will enhance self-defence for deployed HMC Ships, along with generating a strategically relevant tactical advantage for commanders at sea across the full spectrum of operations. A Letter of Interest (LOI) / Request for Information (RFI) has been released by Public Works and Government Service Canada and can be accessed through https://buyandsell.gc.ca/procurement-data/tender-notice/PW-QD-037-26189.